BANTAM to be supplied for Integration into FireStorm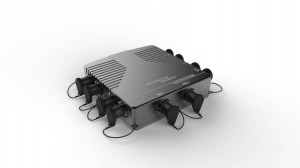 Tectonica's BANTAMTM power and data hub will be integrated into the combat proven FireStormTM Integrated Targeting System developed by Rockwell Collins. BANTAMTM provides power management and data connectivity using award winning technology, to reduce weight and provide unprecedented flexibility.
To meet the challenges of evolving battlefields, tactics and technologies, FireStormTM provides sophisticated ground targeting technology while simplifying military data links. FireStormTM consists of a lightweight, loosely coupled and modular Joint Fires system with hardware options that allow users to tailor the system to their mission needs.
Commenting on the agreement David Levy, Managing Director Tectonica said, "Tectonica is delighted to have been selected by Rockwell Collins, a world-leader in Joint Fires solutions. BANTAMTM provides soldiers with unprecedented confidence and flexibility in their power, and with an integrated data hub, a single and flexible solution that ensures soldiers have the power they need."
BANTAMTM is highly suited for Joint Fires soldiers who operate in extreme environments for long periods of time. Designed for military conditions, BANTAMTM powers equipment from a central power source, reducing the number of battery types required.
Blair Evens, Rockwell Collins commented, "Joint Fires requires precise equipment, to survive isolated and extreme environments. BANTAMTM is complementary to the FireStormTM, providing high levels of capability while reducing the impact upon the soldier."BANTAMTM was developed in 2008 with support from the Australian Department of Defence, Capability and Technology Demonstrator program, and recently won an innovation award at the 2014 Land Forces Conference.