Soldier Integrated Power System CTD Successfully Completed
Posted at 6:26 am in News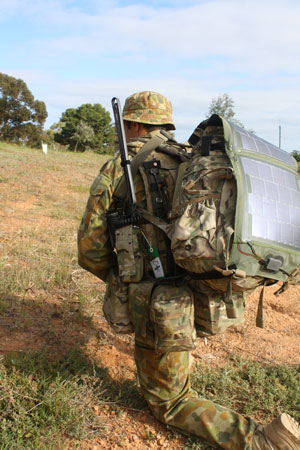 Tectonica is proud to announce the completion of the Soldier Integrated Power System (SIPS) Capability and Technology Demonstrator (CTD) project developed in collaboration with Australian National University (ANU) and CSIRO. The SIPS project achieved its aim to develop and demonstrate an integrated system that reduced the weight and bulk carried by soldiers, while improving their mobility and endurance. The system testing at Edinburgh barracks in Adelaide involved soldiers using the power management system to power worn equipment for the duration of a 72 hour mission.
SIPS was awarded funding in August 2011 under round 15 of the Defence Science Technology Organisation (DSTO) CTD program. Building on Tectonica's existing power management technology, this CTD project enabled the connection of in-service equipment, adapting them for power management. Tectonica also developed a physically flexible power manager, pushing the limits of electronics' form as well as function.
The system was developed to enable the connection of ANU's SLIVER cells; highly efficient, flexible and lightweight PV modules  adapted by ANU project team for integration with soldier ensemble.  This power generation at the solider, prolongs mission power, and minimises the logistical footprint of individual soldiers. The system integrates with soldiers' load carriage equipment (LCE) using CSIRO's E-Textile conductive pathways through fabric. E-Textiles enable the soldier to connect equipment directly to their LCE, reducing cable interference and improving soldier mobility.
The SIPS project's comprehensive approach to powering the soldier has proven a significant reduction of carried weight and burden, and has demonstrated the benefits of a centralised power management system on simplifying the cognitive burden that soldiers face. Managing Director of Tectonica David Levy commented, "SIPS demonstrates the capability improvements achievable through industry and academic partnership.  Integrating these leading technologies has provided real savings in weight and bulk, and we are committed to bringing these improvements to soldiers as soon as possible."
Developing cutting-edge portable power solutions to the soldier remains a priority for Tectonica, who continues to develop this technology to bring these improvements to soldiers with a commercialised solution, BANTAM.