TECTONICA LAUNCHES THE NEXT GENERATION SOLDIER WORN POWER SCAVENGER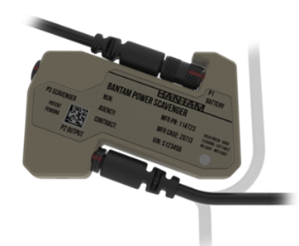 Tectonica's launches its latest BANTAMTM product, the Power Scavenger.  It sets a new benchmark in soldier worn equipment with its novel "soldier centric" design.
Unlike common power hubs the BANTAMTM Power Scavenger does not have cables protruding straight out.  It has a unique, and patented 'Z' shape design that arranges 3 ports around the 'Z' in a way that cradles bulky cable connectors and gets rid of uncomfortable protrusions.  Even when fully connected, the design ensures that the Power Scavenger keeps an incredibly slim profile improving the way it's integrated onto the soldier.
Tectonica worked closely with active soldiers to develop the BANTAMTM Power Scavenger.  It has been designed specifically for the soldier that needs a single port power management capability. It enables the connection of a central battery to provide up to 100W power, which will power your Combat Net Radio, GPS receiver, and an Android or Windows End User Device with lots of power to spare.
A built in Maximum Power Point Tracker ensures you can recharge the central battery from a solar matt, vehicle, primary or rechargeable batteries, mains power, basically any power source available on the battlefield.  Simultaneously powering and charging the main battery greatly improves operational readiness by eliminating the need to disconnect equipment when recharging
This highly efficient power scavenger has a negligible heat signature, even when operating continuously in extreme conditions of 55°C (131°F).  And at less than 150g (5.3oz) the BANTAMTM Power Scavenger delivers big on capability for a very small weight burden.
Tectonica is a world-leader in soldier worn power managers and data hubs, with over a decade of experience and it shows in this innovative product.   BANTAM Power Scavenger is developed in-line with the US Nett Warrior soldier system architecture.  This means it integrates simply into the existing soldier system and is truly "plug-and-play" using in-service, currently carried cables, saving weight and cost.  This is a must have product for the modern combat soldier.