First BANTAM Systems delivered to Rockwell Collins
Posted at 7:31 am in News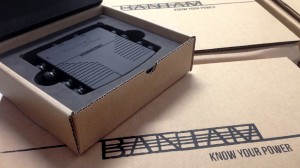 The first 10 BANTAM systems have been shipped to Rockwell Collins for integration into FireStorm TM.
Shown here, the Rockwell Collins BANTAM Cortex is ready for shipping. The complete systems were shipped last Friday the 21st of August. Featuring the Cortex 240D, a power management and data distribution hub, the systems are to be integrated into the FireStorm TM system by Rockwell Collins.
FireStorm TM is the integrated targeted system for Joint Fires by Rockwell Collins. BANTAM was selected to provide integrated power and data management for the system. Well suited for integration into the FireStorm system, BANTAM reduces impact on soldiers and provides sustained power for prolonged missions. The Cortex 240D also enables data communications between devices.